The Tegos Tapes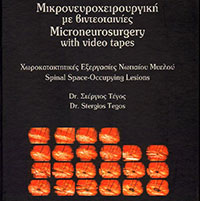 Welcome back to #audioCountry. In the 90s friend asked Vangelis for a soundtrack for his neurosurgery practice tapes. The result is what's now called "The Tegos Tapes". 12 hours of neurosurgery videos with greek voiceover and a Vangelis soundtrack.
There is no actual release for this music and the original video tapes are hard to find. But parts of it are appearing online. Dr. Stergios Tegos has some of the videos on his Vimeo page. More information and audio streams are here, here and here.
Another weird #audioCountry to start the year.
"Every human being, animal, plant or mineral carries the imprint of the cycle of Creation. Sound has always followed the sequences of change in this cycle, like a code carrying the function and dimension of the universe, being at the same time its generator. Let us go deep into our memory (and remember), by doing this, we will be able to decode the code of the Creation of the universe and, therefore, our own. What an extraordinary and divine key is music!" – Vangelis (Intro to The Tegos Tapes)
---