Denovali Swingfest 2014 Essen Festival Sampler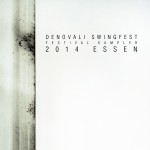 2 hours and 18 minutes of experimental music, free to listen or download (no registration required) from the Denovali MP3 Store.
If you like what you hear there are hours of more free downloads at the Denovali MP3 store from the label that organizes the festival. Sadly I've never managed to go, yet.
But I got to see a live show by one of the performers, [Bohren & Der Club of Gore][bohren, a unique experience. Their genre is called Doom Jazz. I hope you enjoy this week's #oneWeekOneAlbum. Perhaps I'll try and find something a little.. lighter next week :)
---